Website Operations and Maintenance
Keep Your Website Running Smoothly With Our Operations and Maintenance Services
Welcome to our Website Operations and Maintenance service section, we keep your website running smoothly! In this fast-paced digital era, having a well-functioning and reliable website is the key to success for any business or organization. However, maintaining optimal operations and managing necessary updates can be daunting tasks that often require professional expertise. That's where we come in!
Our web operations and maintenance services are designed to ensure that your website remains seamless, secure, and up-to-date at all times. Whether you're a small business owner or a seasoned web developer, join us as we delve into the world of specialized support that will keep your online presence shining bright. Get ready to discover essential tips, best practices, and innovative solutions tailored specifically for the smooth functioning of your beloved virtual storefronts. Let's dive in together and unlock the secrets behind an impeccably operated website that never fails to captivate its audience!
Our Website Operations and Maintenance Services keep your website up-to-date.
Are you tired of your website feeling like an outdated relic from a bygone era? Look no further than Website Operations and Maintenance Services, the champions of online innovation! We pride ourselves on our unwavering commitment to keeping your beloved virtual storefront as fresh as a spring breeze. With our expert team at the helm, we ensure that every aspect of your website is constantly updated, with cutting-edge technology infused into its very DNA.
The dynamic world of the internet never sleeps, and neither do we! Countless hours are spent meticulously dissecting each line of code, tweaking design elements with an artist's touch, and analyzing user feedback for continuous improvement. Our seasoned wizards seamlessly blend functionality with visual splendor to captivate visitors as they journey through your digital realm. As industry pioneers in the field of Website Operations and Maintenance services, we possess an unrivaled passion for pushing boundaries and defying mediocrity. Welcome to a future where websites don't just exist but thrive with our Website Operations and Maintenance Services!
Providing all website services such as: providing an informed, value-driven, tailored new technology solution for your infrastructure planning.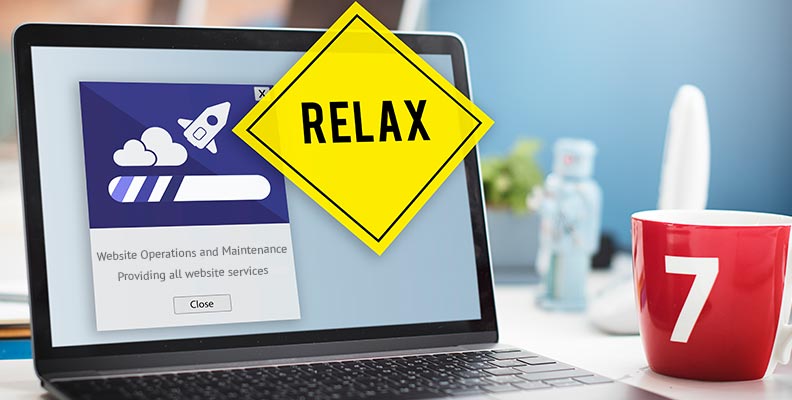 At Website Operations and Maintenance, we are the ultimate go-to destination for all your website needs. Our mission is simple yet powerful – to provide you with an informed, value-driven, tailored new technology solution for your infrastructure planning. Imagine a team of tech wizards who not only understand your business objectives but also possess the expertise to seamlessly integrate cutting-edge technological advancements into every aspect of your website operations.
From ensuring smooth navigation and user experience to optimizing performance and security measures, we have got it covered! With us by your side, be prepared to embark on an exhilarating journey where innovation meets efficiency in the digital realm. Get ready to witness a transformation that will leave both you and your customers mesmerized. Buckle up as we dive headfirst into revolutionizing your online presence like never before!
Hackers attack disorganized websites. Proactive Website Operations and Maintenance Services will protect your web traffic.
Are you tired of living in fear, constantly worried about the safety and security of your website? Well, fret no more! In this ever-evolving digital landscape, websites often grow disorganized and vulnerable, leaving them susceptible to malicious hackers lurking in the shadows. But fear not, for I have the perfect solution that will safeguard your precious web page traffic like a fortress – introducing Website Operations and Maintenance services!
With our cutting-edge technology and proactive approach, we ensure that every corner of your website is meticulously inspected and optimized on a regular basis. Our team of expert professionals is dedicated to keeping your online domain free from any nefarious activities or cyber threats. Say goodbye to sleepless nights spent worrying about potential attacks because, with our state-of-the-art measures in place, you can rest assured that your website is fortified against even the most cunning hackers out there. Website Operations and Maintenance services – protecting what's rightfully yours in this vast abyss called the internet!
To assist you in improving your company's website is our expertise. We offer a variety of Website Operations and Maintenance Services, such as SEO, mobile-friendly design, website monitoring & management, content creation, and more which will help your website rank higher on search engines.
Finding the right provider can be daunting but with the correct research and effort finding an affordable yet reliable service could help boost your site's performance in no time. There are many great providers out there offering different packages that include both basic and advanced services so you're sure to find something that fits within your budget without compromising on quality.