Why Hiring a Freelance Website Designer is a Smart Choice for Your Business
Are you looking to create a stunning website that captures the essence of your business? Do you want a design that not only attracts customers but also drives results, be it a website design for insurance agency, or web design for attorney, or an eldercare website redesign? If so, then it's time to consider hiring a freelance website designer. In today's digital age, having a strong online presence is crucial for any business be it. And who better to bring your vision to life than a talented and experienced freelancer? In this blog post, we'll explore the benefits of working with a freelance website designer, how to find the right one for your business, what to expect during the process, and how to get the most out of your collaboration. So sit back, relax, and let us show you why hiring a freelance website designer is indeed a smart choice for your business!
The Benefits of Hiring a Freelance Website Designer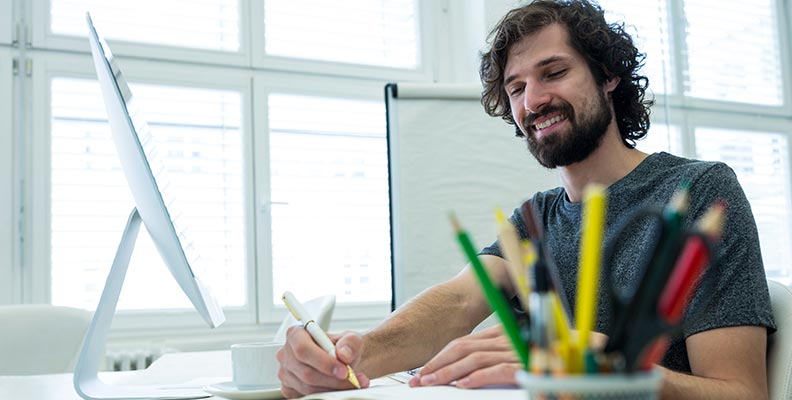 When it comes to website design, freelancers offer a plethora of benefits that can take your business to new heights. First and foremost, hiring a freelance website designer gives you access to top-notch talent from around the world. These professionals bring their unique perspectives and creative flair to your project, ensuring that your website stands out in a crowded online marketplace.
Flexibility is another major advantage of working with freelancers. Unlike traditional agencies, freelancers are often more adaptable and willing to accommodate your specific needs and preferences. They can work on projects of any size or scale, whether you're launching a new e-commerce store or revamping an existing site.
In addition to their flexibility, freelance website designers typically offer competitive pricing options. With lower overhead costs compared to larger agencies, they can provide high-quality services at affordable rates. This allows small businesses with limited budgets to still have access to professional web design services without breaking the bank.
Furthermore, when you hire a freelancer for your web design needs, you'll likely experience faster turnaround times. Freelancers are known for their efficiency and ability to focus solely on one project at a time. This means that they can dedicate their undivided attention to creating the perfect website for your business in less time than it would take for an agency with multiple clients.
Working with a freelance website designer offers more personalized attention throughout the entire process. You'll have direct communication with the designer every step of the way, allowing for greater collaboration and quicker decision-making. This ensures that your vision is accurately translated into an engaging and user-friendly website experience.
In conclusion… Hiring a freelance website designer brings numerous benefits such as access to top talent worldwide, flexibility in accommodating your specific needs, competitive pricing options, faster turnaround times due to focused dedication, and personalized attention throughout the entire process. With these advantages combined, it's clear why choosing a freelance website designer is indeed a wise move for your business be it an insurance agency, attorney, Homecare or eldercare business, and much more.
How to Find the Right Freelance Website Designer for Your Business
Finding the right freelance website designer for your business is crucial to ensure that you get a high-quality and professionally designed website. Here are some steps to help you find the perfect fit:
1. Define your needs: Before starting your search, determine what exactly you need from a website designer. Consider factors such as design style, functionality requirements, budget, and timeline.
2. Ask for recommendations: Reach out to colleagues or friends who have worked with freelance designers before. They can provide valuable insights and recommendations based on their firsthand experiences.
3. Use online platforms: Utilize freelance websites like Upwork or Fiverr to browse through portfolios and profiles of different designers. Look for those who specialize in web design and have positive reviews from previous clients.
4. Review portfolios: Take the time to thoroughly review each designer's portfolio to gauge their skills, creativity, and ability to meet your specific requirements.
5. Conduct interviews: Once you've narrowed down your options, schedule interviews with potential candidates via video call or phone. This will allow you to discuss project details further and assess their communication skills.
6. Request references: Don't hesitate to ask for references from past clients so that you can gain insight into the freelancer's reliability, work ethic, and professionalism.
7. Discuss terms and contracts: When selecting a freelancer, make sure that both parties are clear on expectations regarding deliverables, timelines, revisions process, payment terms, and ownership rights.
Remember that finding the right freelance website designer may take some time but investing effort upfront will greatly increase your chances of hiring someone who can bring your vision to life!
What to Expect When Working with a Freelance Website Designer
When you decide to work with a freelance website designer, there are a few things you can expect during the process. Communication will be key. A good freelance designer will take the time to understand your business objectives and goals, and they will keep you updated on their progress throughout the project.
You can also expect a high level of creativity from a freelance designer. They have the freedom to think outside the box and create unique designs that align with your brand identity. This means that your website will stand out from the competition and leave a lasting impression on visitors.
Another thing to expect is flexibility. Freelance designers often have more flexible schedules compared to agencies or in-house teams. This allows them to adapt to your needs and make adjustments quickly if necessary.
Working with a freelance website designer also means personalized attention. You won't be just another client in their portfolio; they will give your project their full focus and dedication.
Don't be surprised if working with a freelancer feels like collaborating with a partner rather than simply hiring someone for a job. They will value your input and ideas, making sure that the final product meets or even exceeds your expectations.
When working with a freelance website designer, you can expect effective communication, creative designs, flexibility, personalized attention, and collaboration toward achieving outstanding results for your business's online presence
How to Get the Most Out of Your Freelance Website Designer
Getting the most out of your freelance website designer is crucial for the success of your business. Here are some tips to ensure a productive and efficient working relationship:
1. Clearly define your goals: Start by clearly communicating your vision and objectives for the website. Provide detailed information about your target audience, desired features, and overall design aesthetic.
2. Establish open communication: Maintain regular communication with your freelance website designer throughout the project. Be responsive to their queries and provide timely feedback on design concepts or revisions.
3. Trust their expertise: Remember that you hired a freelance website designer because of their skills and knowledge in this field. Trust their judgment when it comes to making design decisions that align with industry best practices.
4. Set realistic timelines: Work together to establish realistic deadlines for each phase of the project. This will help keep everyone accountable and ensure that progress is being made in a timely manner.
5. Provide necessary resources: To get the best results, make sure you provide all relevant content, such as high-quality images, brand guidelines, and written copy on time so that they can be incorporated into the website seamlessly.
6. Collaborate effectively: Actively participate in the design process by providing constructive feedback while also allowing creative freedom for your freelancer to bring fresh ideas to the table.
By following these tips, you can maximize productivity and achieve outstanding results when working with a freelance website designer!
FAQs About Hiring a Freelance Website Designer
1. How much does it cost to hire a freelance website designer?
The cost of hiring a freelance website designer can vary depending on their experience, skill level, and the complexity of your project. Some freelancers charge an hourly rate, while others may offer package deals or flat rates for specific services. It's important to discuss pricing upfront and make sure you have a clear understanding of what is included in the quote.
2. Will I have input in the design process?
Absolutely! A good freelance website designer will collaborate with you throughout the design process to ensure that your vision is brought to life. They will listen to your ideas and preferences, provide expert advice and suggestions, and work closely with you until you are satisfied with the final result.
3. How long does it take to build a website?
The timeline for building a website can vary depending on factors such as the size and complexity of the site, the availability of content and assets from your end, and how responsive both parties are during communication. It's essential to discuss deadlines with your freelancer at the beginning of the project so that expectations are clear from both sides.
4. What if I need updates or changes after my website is launched?
Most freelance designers offer post-launch support services where they can assist you with any updates or changes you may need after your website goes live. Make sure to clarify these details beforehand so that there are no surprises down the line.
5. How do I find a reliable freelance website designer?
To find a reliable freelance website designer, start by asking for recommendations from friends or colleagues who have had positive experiences working with freelancers in this field before conducting online research through platforms like LinkedIn or specialized websites focused on connecting businesses with freelancers.
Remember that each freelancer has their own unique set of skills and style – be sure to review portfolios, read reviews from previous clients, and interview potential candidates thoroughly before making a decision.
Hiring a freelance website designer can offer numerous benefits
Ready to Hire a Freelance Website Designer?
Now that you have learned about the benefits of hiring a freelance website designer, how to find the right one for your business, what to expect when working with them, and how to get the most out of their services, it's time to take action.
Hiring a freelance website designer can be a smart choice for your business. Not only will you gain access to their expertise and creativity, but you will also save time and money compared to hiring an in-house team or an expensive web design agency.
Remember, when searching for a freelance website designer, look for someone with relevant experience in your industry who understands your vision and goals. Take the time to review their portfolio and ask for references from past clients.
Once you've found the perfect freelance website designer for your business, make sure to communicate clearly about your expectations and provide them with all the necessary information they need. Be open-minded during the design process as they may have valuable insights that can enhance your website.
Remember that building a successful website is an ongoing process. Stay engaged with your freelancer even after the initial project is completed. Regularly update and maintain your site so that it remains fresh and functional over time.
So if you're ready to take your online presence to new heights and create a visually stunning and user-friendly website that represents your brand effectively – start looking for a talented freelance website designer today!
By investing in professional web design services from freelancers who specialize in creating engaging websites tailored specifically for businesses like yours, you'll be setting yourself up for success in today's digital world. Don't miss out on this opportunity – hire a freelance website designer now! For free consultation on your web project call 1-916-358-6449